The 2010 Ford F150 is an extremely capable truck for towing. It has a max trailer 2010 F150 towing capacity of 5,100 – 11,300 lbs, depending on the transmission type and package selected. When hauling a trailer with this vehicle, Ford recommends using a weight-distributing hitch to ensure optimal performance and never exceeding the tongue weight limit of 10% of the total trailer weight or 500 lbs, whichever is lower.
For more information regarding the specific capabilities of your 2010 Ford F150, be sure to consult both the Owner's Manual and Trailer Towing Guide Brochure for exact details. Should you require further clarification or additional assistance in determining your vehicle's maximum tow rating, don't hesitate to contact your local dealer for expert advice.
2010 F150 TRIMS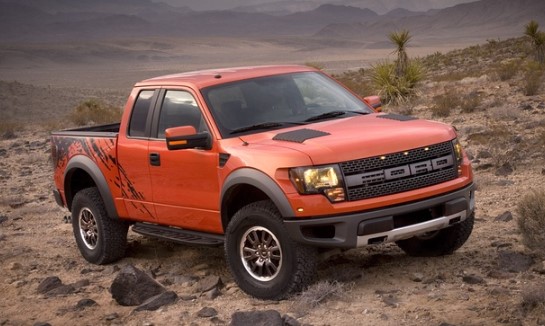 The 2010 F150 series offers 8 different trim levels for customers. Each trim level has varying package options, bed lengths, cab sizes, and engine types, allowing drivers to customize their vehicles to fit their needs best. Additionally, cosmetic additions are available in each trim level that can be added at a customer's discretion. This post does not detail all of these customization options but provides an overview of what the 2010 F150 series offers.
XL
XLT
FX4
Lariat
King Ranch
Platinum
STX
Harley-Davidson
CAB AND BED SIZES
The 2010 F150 offers three cab types- regular/standard, SuperCab, and SuperCrew. The regular cab is equipped with single-row seating, and the other two cabs are designed to carry up to two rows of passengers comfortably. In comparison, the SuperCab is slightly smaller in length, rear seat space, and rear door sizes than its counterpart – the SuperCrew.
Bed Sizes
The 2010 F150 offers three main bed sizes: the short 5.5 ft, the standard 6.5 ft, and the long 8 ft. Depending on cab size preference and trim level chosen, not all bed sizes may be available for each buyer. Regular cabs can accommodate both the 6.5ft and 8ft beds; SuperCab is offered with all three-bed sizes; SuperCrew accommodates either a 5.5 or 6.5ft option; flare-side/style side trucks have no impact on the towing capacity of this vehicle model guide as outlined above.
PACKAGES
Ford recommends that drivers not exceed a maximum trailer capacity of 5,000 lbs unless they have one of the two packages listed by Ford.
Heavy-Duty Payload Package (Code 627)
17 in high capacity steel wheels
heavy-duty shock absorbers and frame
upgraded springs & radiator
3.73 axle ratio
This package is exclusively available on XL and XLT Regular and SuperCab models, featuring an 8 ft bed and 5.4 L engine, along with the Max Trailer Tow Package included.
Trailer Tow Package (Code 535)
7 wire harness
4/7 pin connector
hitch receiver
Trailer Brake Controller
Max Trailer Tow Package (53M)
When the Heavy-Duty Payload Package is added, the Max Trailer Tow Package includes all the same accessories as the standard Trailer Tow Package.
TOWING CAPACITY BY ENGINE
To determine the towing capacity of your vehicle, you need to know the:
Engine type
Bed size
Cab size
Drivetrain
Axle ratio
Once they have established their knowledge of all the items, they should proceed to the next section and use the engine to determine their towing capacity.
If not:
Autozone's VIN decoder can identify the engine in a given vehicle.
Utilizing a measuring tape, one can determine if their truck bed is 5.5, 6.5 or 8 ft long.
The cab size of the vehicle should become apparent with the presence or lack thereof of two rows and whether it has full-sized back doors.
The drivetrain type may also be determined through the VIN decoder from Autozone and an axle ratio stated on its certification sticker on the driver's door-side panel.
Finally, additional research may need to be conducted to ascertain any other important information regarding your specific vehicle model and make
This sticker in the car provides important information to the driver. It marks the Gross Vehicle Weight Rating (GVWR), used to determine payload capacity. It also features a two-digit code corresponding to an axle ratio for trucks. This code can be translated into its corresponding axle ratio by examining the chart below. Knowing such information helps ensure a safe driving experience and aids in understanding vehicle capabilities.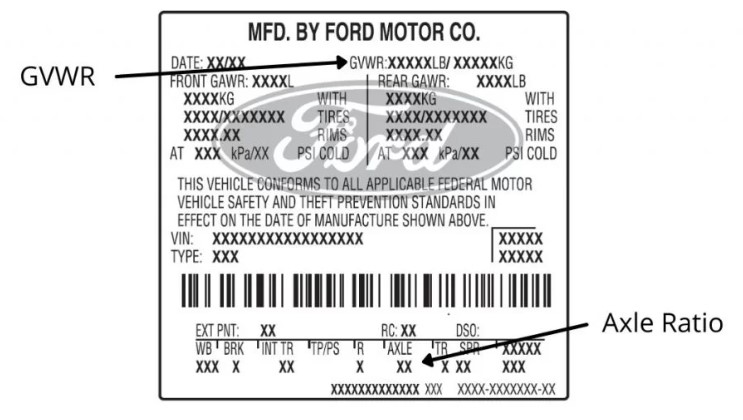 4.2 L 2V V8
The 2010 F150 series offers a 4.2 L 2V engine as its smallest option for the truck family, boasting 248 hp and 294 lb.-ft of torque. This version is only available in two-wheel drive but has manual and automatic transmission options. With an automatic transmission, the maximum towing capacity is 5100 – 6000 lbs., less than the automatic transmissions of previous models.
4.6 L 3V V8
The F150 offers an impressive 4.6 L 3V V8 engine as its middle option, which delivers 292 horsepower and 320 lb.-ft of torque. This engine is only available with an automatic transmission, but it makes up for this limitation with a maximum towing capacity that ranges from 7,500 – 9,500 lbs.
5.4 L 3V V8
The 2010 Ford F150 series offers a powerful 5.4 L V8 engine with two versions: the original and Flex Fuel (E85). The original is equipped with 310 hp and 365 lb.-ft of torque, while the Flex Fuel version boasts 320 hp and 390 lb-ft of torque. This heavy-duty engine is coupled with an automatic transmission and can tow up to 5,100 – 11,300 lbs for the original version or 11,100 – 11,300 lbs for those using the Flex Fuel option. Compared to the 2009 models in this series, the 2010 edition has nearly 1k lbs more in maximum towing capacity.
2010 F150 TOWING CAPACITY CHART
The chart provided in the Ford brochure offers guidance on trailer tow-related information. It is important to note that this document may differ from what was previously listed and should only be used as a reference. The owner's manual is the most reliable source of information regarding any differences between the two documents.
If you want download Owner's Manuel, Please click here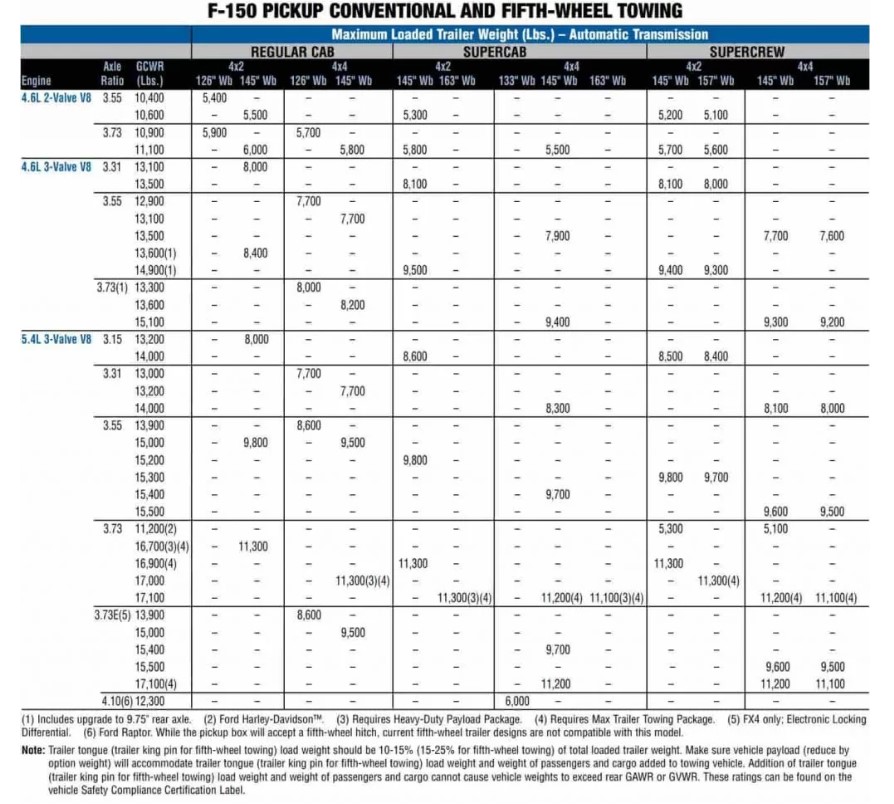 2010 F150 5TH WHEEL TOWING CAPACITY
Ford does not offer any 5th-wheel towing hitches, so customers looking to use their F150 for this purpose must acquire one from an external source. The same towing capacities apply regardless of the type of hitch used, though a difference in tongue weight must be considered; Ford recommends 15-25% as the ideal range. Those needing such a hitch should consider checking out Amazon's top-rated option – it might be just what you need!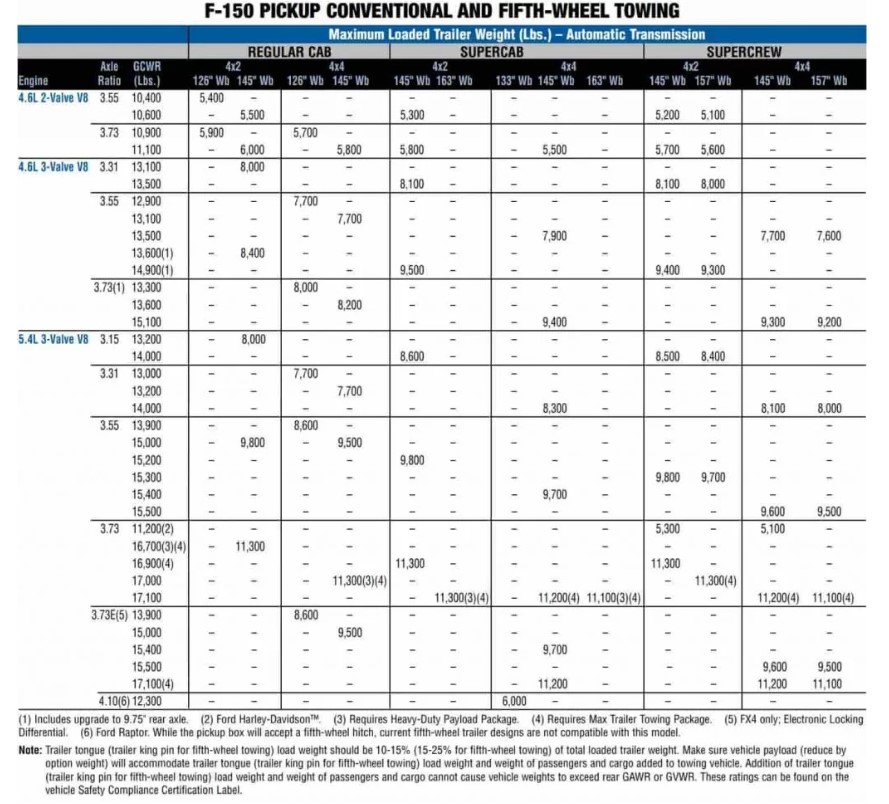 PAYLOAD CAPACITY
Ford does not provide a straightforward way for drivers to check the payload capacities of 2010 F150 models. However, it is possible to find the Gross Vehicle Weight Rating (GVWR) listed on the certification sticker located inside the driver's side door. Additionally, those with a Heavy-Duty Payload Package can refer to the table below for maximum cargo weight or payload capacity information. This package only has a 5.4 L V8 engine in all applicable models.
 
GVWR
Payload Capacity
Regular Cab
4×2
4×4
8,200 lbs
8,200 lbs
2,627 lbs
2,326 lbs
SuperCab
4×2
4×4
8,200 lbs
8,200 lbs
1,795 lbs
1,491 lbs
REAR STEP BUMPER TOWING VS. HITCH RECEIVER TOWING
The Ford F150 allows for bumper towing, eliminating the need for a fully installed hitch receiver. This type of towing requires that all trailer tongue weights do not exceed 500 lbs or 10% of the total towing capacity. When the weight of the trailer exceeds 5,000 lbs., a weight-distributing trailer hitch must be used with an appropriately installed hitch receiver to ensure proper performance and safety while driving.
By utilizing these guidelines when considering any towable item behind your Ford F150, you can know that your vehicle is properly equipped and prepared for traveling on roads in any condition. With this maximum rating information available before departure, you can calculate exact load limits safely and accurately, ensuring many miles of worry-free travel ahead!
 
Weight Carrying Trailer Capacity
(Max Tongue Load)
Weight-Distributing Trailer Capacity
(Max Tongue Load)
Rear Step Bumper
5,000 lbs
(500 lbs)
–
Hitch Receiver
5,000 lbs
(500 lbs)
11,300 lbs
(1130 lbs)
Final Thoughts
It is important to remember that the 2010 F150 towing capacity, as provided in this guide, should be used as a general guideline only. It is highly recommended that individuals calculate their towing capacity when considering what they can tow with their Ford F150. For instruction on accurately and safely calculating one's towing capacity, readers are encouraged to review "How is Towing Capacity Calculated?". This article features a useful calculator that, combined with the vehicle's GCWR (Gross Combined Weight Rating) listed in its manual, will accurately estimate how much weight one can safely tow.
FAQs About 2010 F150 Towing Capacity Guide
What is the towing capacity of a 2010 5.4 Triton?
The maximum tow ratings for F-150 models vary depending on the engine, trim, and axle ratio chosen. The 5.4-liter V-8 with a 3.73:1 axle ratio can offer up to 11,000 to 11,300 pounds of tow rating; however, this configuration may not be available in certain trims or wheel combinations.
What year F150 can tow 10000 lbs?
2023 Ford F-150 Towing Capacity:
This vehicle boasts a powerful 3.3L Ti-VCT V6 Engine with an impressive 8,200-pound maximum towing capacity. For those seeking even more power and capability, the 2.7L EcoBoost® V6 Engine offers a unique 10,000-pound maximum towing capacity for optimal performance.
Can the F-150 tow 10000 lbs?
The Ford F-150 offers drivers a range of engine options, but the 3.5-liter EcoBoost V-6 engine is recommended for the highest towing capacity. This engine provides an impressive 11,000 pounds of towing capability and can even reach 14,000 pounds2 when equipped with the Max Trailer Tow Package – making it the best in class.
Which Ford F-150 engine is best for towing?
3.5L EcoBoost V6:
This F-150 truck offers the 3.5L EcoBoost V6 engine as a top choice for towing capabilities, providing an impressive 14,000-pound towing capacity and 3,250-pound payload capacity. The bonus of a ten-speed automatic transmission guarantees smooth and efficient hauling experiences.