The Honda Grom has quickly become a favorite of motorcyclists worldwide due to its power, performance, and sleek design. Many other companies have followed suit by creating their versions, or "clones," as they are sometimes referred to in the industry. But how do these clones compare to the Grom?
To help you make an informed decision, we have done extensive research into some of the most popular clones on the market and compared them against critical features of the Grom. Our findings can be found below so that you can make an educated choice when purchasing your next bike.
🚀Recommended article: Best Cover for Grass Seed: Essential Protection for Lush Lawns
| Motorcycle Model | Engine Capacity | Horsepower | Weight | Max Speed | Price | Fuel Efficiency |
| --- | --- | --- | --- | --- | --- | --- |
| Honda Grom | 125cc | 9.6 hp | 227 lbs | 60 mph | $3,399 | 134 mpg |
| Lifan 150cc | 150cc | 12 hp | 242 lbs | 70+ mph | N/A | 100+ mpg |
| Ice Bear Vader 2 | 125cc | 8 hp | N/A | N/A | $1,500 | N/A |
| Ice Bear Little Monster | 125cc | 8 hp | N/A | N/A | N/A | N/A |
| Benelli TNT 135 | 135cc | 13 hp | 267 lbs | 70 mph | $2,649 | 120 mpg |
| SSR Razkull 125 | 125cc | 8.3 hp | 225 lbs | 55 mph | $1,999 | 100 mpg |
| TaoTao Hellcat 125 | 125cc | N/A | 207 lbs | 45 mph | N/A | N/A |
| Kymco K-Pipe | N/A | N/A | N/A | N/A | $2,249 | N/A |
| Icebear Fuerza | N/A | 6.3 hp | 188 lbs | N/A | $2,100 | 80 mpg |
Advantages of the Honda Grom
The Grom from Honda is considered one of the leading pocket rocket and mini bike models today. This industry leader enjoys several advantages for its users, including the worldwide availability of Honda dealerships and mechanics and plenty of accessible aftermarket parts and maintenance guides.
Honda's reputation for quality in manufacturing has earned them their name-brand status; with precision engineering that other companies often attempt to replicate (leading to many clones), you can trust in what you get when buying a Grom. Additionally, this model often boasts superior features such as an impressive 134 mpg gas mileage, fuel injection technology, and a five-speed transmission offering up to 9.6 hp acceleration power – all together making this an attractive option for anyone looking for reliable performance at an affordable price point.
Advantages of Clones
Grom clones are becoming increasingly popular due to their low cost and offer of comparable features to the original Grom. The price of a clone is typically half or even a third of what you would pay for an authentic Grom, so it's great news for people on a budget. It also makes sense for those looking for just a starter bike who don't necessarily need all of the high-performance specs of the Grom.
Some Grom clones have managed to outperform the original in certain aspects. These performance advantages may be essential for some individuals, making getting the clone over the Grom an obvious choice. With this in mind, many companies have created lists comparing where their clone beats out its competition–allowing customers to find exactly what they're looking for without breaking their budget.
The 8 Best Honda Grom Clones Reviewed
Lifan 150cc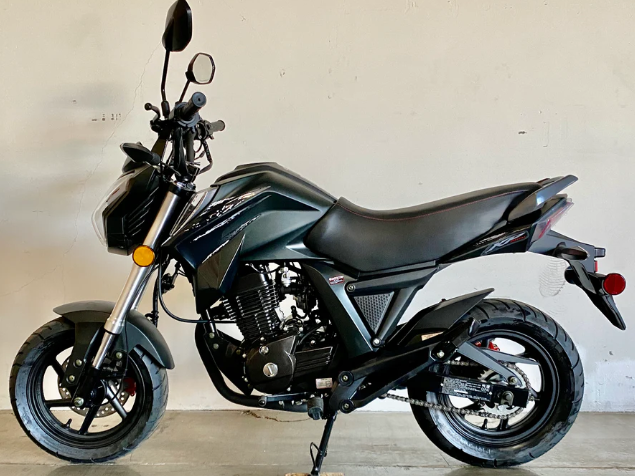 The Lifan 150cc has developed a reputation for being one of the most potent Grom clones on the market. The 149cc 4-stroke engine delivers an impressive 12 horsepower and is one of only a few in its class to feature a five-speed manual transmission. With electric start, front and rear disc brakes, and fan-assisted air cooling system all standard, riders can expect top speeds over 70 mph and fuel efficiency greater than 100 mpg. The suspension setup includes inverted forks up front and a single rear shock absorber out back with a net weight of 242 pounds. Lastly, this clone carries both EPA and DOT approval in the United States for added peace of mind when riding.
Ice Bear Vader 2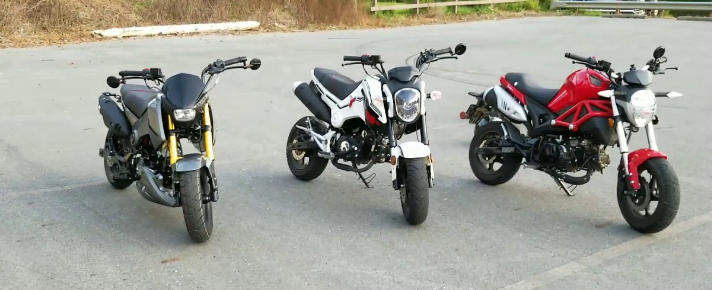 The Ice Bear Vader 2 is the latest Honda Grom clone to hit the market, and it's undoubtedly an excellent option for anyone looking for an affordable ride. Boasting a 4-stroke 125cc engine that produces eight horsepower, this mini-motorcycle seems as good as it runs. With sleek styling and no bulky plastic on the rear end, you can be sure you'll look Full Send when riding around town. Given its competitive price of $1,500 (plus shipping and warranty), it's hard not to recommend this bike over any other Grom clone. Popular mods include front and rear sprockets, carburetor upgrades, exhaust pipe modifications, and air filter replacements for those interested in increasing performance levels even further.
Ice Bear Little Monster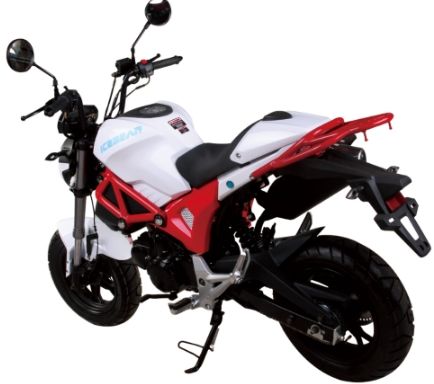 The Little Monster is the perfect companion to Vader 2. It shares all of its mechanics and performance but with a more rugged look and feel, making it truly unique. The stock components are excellent for casual riders, but those looking to enhance their ride have plenty of options! Upgrading the front sprocket to a 17-tooth version and swapping out the carburetor for a Mikuni VM22 will take this bike's performance up several notches. For any rider searching for an affordable yet powerful street machine, the Little Monster can't be beaten.
Benelli TNT 135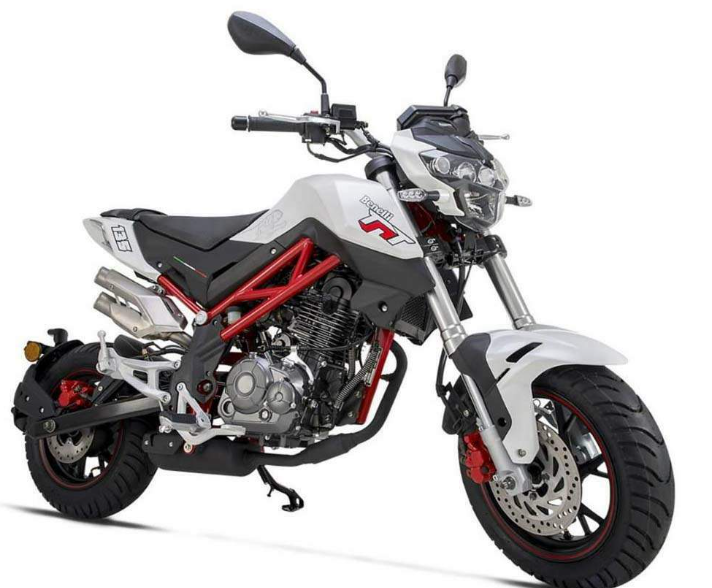 The Benelli TNT 135 is a popular alternative to the Honda Grom for those on a budget. Offering an impressive power-to-weight ratio, and a lower MSRP of $2,649, it has superior horsepower at 13 hp versus 9.6 hp on the Grom and higher top speeds of up to 70 mph versus 60 mph. While its heavier frame – 267lbs compared with the Grom's 227lbs – affects fuel economy, which typically gets users around 120mpg or less from the TNT compared with 134 mpg for the Grom, aftermarket parts may be harder to find in specific locations as well. Despite this, it still offers superb value for money without any need for modifications making it an excellent choice as a starter bike.
SSR Razkull 125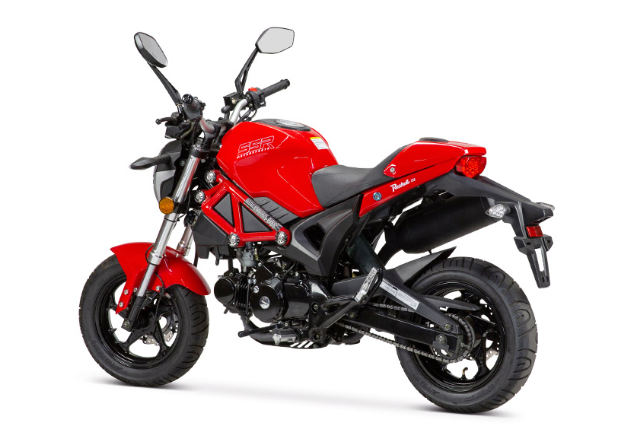 The Razkull is a small-displacement motorcycle from the Chinese manufacturer SSR Motorsports. It has earned the second spot on my list due to its impressive specifications, considering its price range. An MSRP of $1,999 is almost half the price of other comparable motorcycles, such as the Honda Grom. The Razkull has the same displacement as the Grom at 125cc and even weighs slightly less at 225 lbs. However, it does have lower horsepower at 8.3 and roughly the same top speed as its competitor.
Though cheaper than most competitors, some drawbacks with this bike make it hard to recommend over more expensive models like the Grom. One major issue is that it uses carburetor technology rather than fuel injectors making fuel efficiency much lower at around 100 mpg – 25% less than a Honda Grom's MPG rating. In addition, parts for repairs or upgrades are harder to find since well-known brands don't produce them in this market segment like Honda or Yamaha do for their products.
TaoTao Hellcat 125
At just a fraction of the price of its more famous counterpart, the TaoTao Hellcat is an attractive option for someone looking to get into motorbiking on a budget. It shares many similarities with the Honda Grom in design and features, though some key differences should be considered when purchasing. The Hellcat offers an impressive weight advantage over the Grom at 207 lbs compared to 225 lbs. Still, it sacrifices construction quality and top speed – maxing at 45 mph instead of 55 mph. In addition, maintenance and availability of parts may prove challenging due to limited support from TaoTao dealerships. Overall, if you're looking for an inexpensive way to get started with stunts and tricks without having too much invested in case things don't turn out as planned, then the TaoTao Hellcat could be right up your alley.
Kymco K-Pipe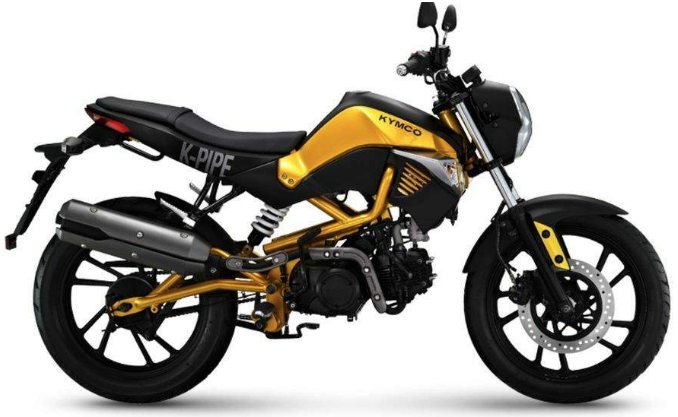 The K-Pipe is a Taiwanese motorcycle model providing an attractive budget alternative to the famous Japanese name-brand, the Grom. While it has poorer specs than the Grom in terms of horsepower and acceleration, as well as fuel efficiency and technical features such as transmission, brakes, and carburetor, it does offer one quality that stands out: 17-inch wheels which are much larger than those of the Grom's 12 inches. This makes it more stable for street riding or commuting as a starter bike while still costing about $2249 less than its rival.
Icebear Fuerza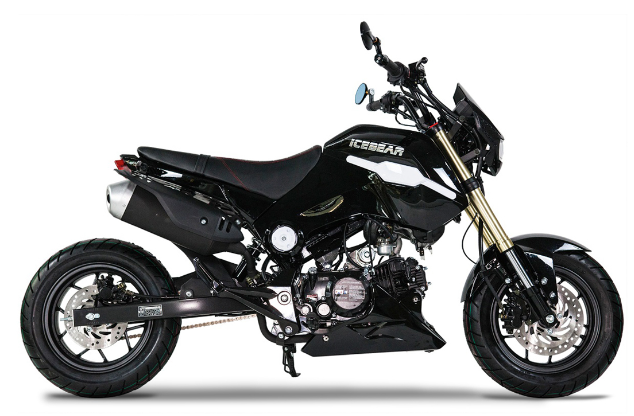 The Icebear Fuerza is an attractive option for those purchasing a small bike on a budget. Its features make it appealing, such as its sleek design and lightweight 188 lbs, which is significantly less than the Grom's 227. This model costs nearly half of what the Grom does at around $2,100.
Unfortunately, there are some drawbacks to consider when choosing the Fuerza over the Grom, namely its 6.3 horsepower engine and 4-speed transmission, which result in poor acceleration compared to the latter. Furthermore, fuel economy is only 80 mpg, and parts can be challenging to find should maintenance be necessary.
All things considered, if you're looking for a motorcycle that will give you thrills without breaking your bank account, then the Icebear Fuerza may just be worth considering – although bear in mind that further upgrades may prove necessary down the line should you decide more power or better performance is desired.
📢Read also: 6 Best Car Detailing Shops in Houston
What's the Cheapest Honda Grom clone?
The Tao Tao Hellcat 125 is an excellent value for an economical yet powerful motorbike. Its traditional 125cc SOHC engine, carburetor, and four-speed manual transmission offer tremendous performance at a fraction of the price of higher-end models. It has a top speed of around 50 miles per hour and can be found online for approximately $1,100, making it an attractive option to many riders who want to make the most out of their purchase without breaking the bank. Whether new to riding or looking for something reliable that won't break your budget, this model should undoubtedly be on your list when shopping.
Are there modifications for Honda Grom clones?
The Honda Grom has become a popular bike to customize for many motorcycle enthusiasts. With its lightweight frame and agile handling, the small-displacement bike is perfect for adding your personal touch. From custom paint jobs to aftermarket performance parts, there are plenty of ways to make this unique machine stand out.
Fortunately, you don't have to go it alone when it comes time to modify your Grom. No matter what direction you choose, numerous options available on the market today can help you achieve just about any look or feature imaginable. Whether you want more power under the hood or an eye-catching exterior design, getting creative with a customized Grom will surely be an enjoyable experience that will yield great results!
👀Look at this: 6 Best Car Detailing Shops in Charlotte
Final Thoughts
Finding a small motorcycle that fits your budget can be a challenge. Fortunately, the Honda Grom clones are great options for cost-effective transportation. Benelli TNT is one of the most popular choices in this market, while other models like SSR Razkull and TaoTao Hellcat pack some stand-out features at affordable prices. These motorcycles can provide an enjoyable riding experience and contribute to your overall lifestyle without breaking the bank.