If you're like most drivers, you probably don't give much thought to your car's blind spot warning light. But if that light stays on after you start driving, it's essential to take heed.
There are a few reasons why your blind spot warning light might stay on. One possibility is that something obstructs the sensor, such as a build-up of dirt or snow. Or the sensor itself may be damaged.
If you think there might be an obstruction, the first thing to do is clean the sensor. If that doesn't work, you should take your car to a mechanic to check the sensor out.
Ignoring a blind spot warning light can be dangerous, so it's best to err on caution and get it checked out as soon as possible.
See also: Honda Cr-v All Warning Lights On
What is a blind spot warning light?

A blind spot warning light is a visual cue that alerts the driver to the presence of a vehicle in their blind spot. This light is usually located on the side view mirror of the car. When the light is illuminated, it indicates a vehicle in your blind spot, and you should use caution when changing lanes.
See also: Key Fob Battery Low Warning Light
What causes a blind spot warning light to stay on?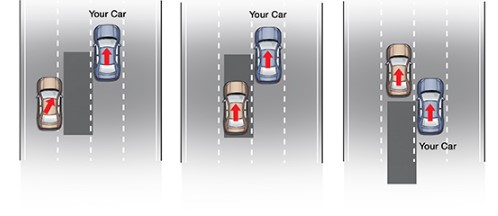 There are a few potential causes for a blind spot warning light to stay on. One possibility is that there is an issue with the sensor itself. Another option is that something is blocking the sensor, such as dirt or debris. Finally, it is also possible that the blind spot warning system is turned off. If you are unsure of the cause, it is best to consult your car's owner's manual or take it to a qualified mechanic for diagnosis.
How to fix a blind spot warning light that is staying on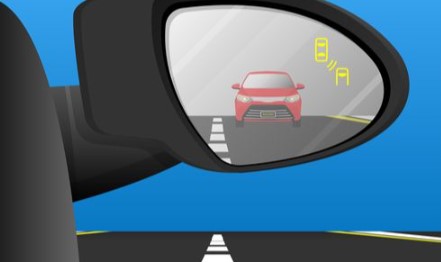 If your blind spot warning light is staying on, it could be a sign of a bigger problem. Here are some tips on how to fix it:
Check the fuse: The first thing you should do is check the fuse. If the fuse is blown, it will need to be replaced.
Check the wiring: Look at the wiring once you've checked the fuse. If there are any loose wires, they will need to be tightened or replaced.
Check for obstructions: Sometimes, the blind spot warning light will stay on if there's an obstruction in front of it (like a branch or piece of debris). If so, remove the block, and the light should go off.
Check for sensor damage: If none of the above steps work, there may be damage to one of the sensors. This will need to be fixed by a professional.
If your blind spot warning light is staying on, there are a few things you can do to fix the problem. First, check if any dirt or debris is blocking the sensor. If so, clean it off and see if that fixes the issue. If not, you might need to take your car to a mechanic to have them look at it. Thank you for reading, and we hope this article was helpful!
FAQs About Blind Spot Warning Light Staying On
Why are my blind spotlights on?
Blind Spot Warning Systems (BSWs) are designed to detect vehicles adjacent to or behind a particular vehicle. Through the use of small cameras and ultrasonic sensors, BSWs can identify any potential dangers that may be present in the driver's blind spot. When a radar sensor picks up on an additional vehicle, it will alert the driver with an indicator light so they can take necessary precautions while changing lanes or merging into traffic.
Where is the blind spot sensor located?
A car's sensors are typically located under the rear bumper or on the side view mirrors. They are responsible for monitoring the areas behind and to the sides of a vehicle to detect any potential hazards. The detection area covers around one lane width from both sides, ranging from near the side view mirrors up to 10 feet beyond the rear bumper. This ensures that drivers have adequate protection while driving in their vehicles.
How much does it cost to fix the blind spot monitoring?
A recent analysis of Lane Departure Warning (LDW) and Lane Change Assist (LCA) systems has identified that blind spot monitoring systems can range from $200 to $395. At the same time, lane change assists, including lane departure warning functions, cost approximately $1,400 per vehicle. These prices vary depending on the features and complexity of the system chosen.
How much does it cost to replace the blind spot sensor?
Replacing a blind spot sensor can be costly, with parts and labor typically ranging from $200 to $600. Labor times may span one to three hours depending on the sensor's placement and the job's complexity.
Can blind spot detection be turned off?
Activating the blind spot monitor is a simple process. All one has to do is press the switch on the side mirror, which will be turned on, allowing for greater awareness of vehicles in their blind spots. When it's time to turn off this feature, simply pressing the same switch turns it off.