When it comes to owning a Kubota SVL75-2, you may find yourself wondering what all the warning lights mean. Fortunately, we're here to demystify those blinking lights and ensure you know exactly how to respond when they appear on your dashboard. In this blog post, we'll look at each of the Kubota SVL75-2 warning lights, explain what they mean and tell you what to do if one of them pops up on your dashboard. Read on for more information about these critical warning signals so that you can stay safe and in control while operating your machine.
See also: Kubota Dashboard Warning Lights And Symbols
Most Common Kubota SVL75 2 Warning Lights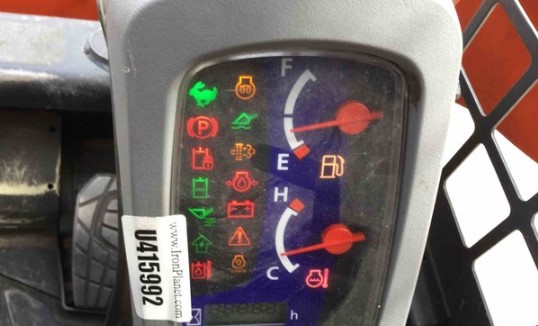 The Kubota SVL75 2 is a versatile, high-performance compact track loader. It features a variety of warning lights that provide the operator with important information to help ensure safe and efficient operation.
The most common warning lights on the SVL75 2 are the glow plug indicator light, engine oil pressure warning light, hydraulic pressure warning light, coolant temperature warning light, and air filter restriction indicator light.
The glow plug indicator illuminates when the ignition switch is turned on and indicates that the preheat cycle has been completed for starting up in cold weather conditions.
The engine oil pressure warning displays when there are insufficient lubrication levels due to low oil levels or reduced flow rate from clogged filters or lines – it should be checked immediately if illuminated.
The hydraulic pressure warning indicates an issue with the system's pump pressures which can cause damage if not addressed quickly; checking all connections and hoses should be done as soon as possible when this occurs.
The coolant temperature and air filter restriction indicators show increased temperatures or blockages in their respective systems, respectively – both issues should be investigated immediately before any further operation occurs.
See also: Kia Warning Lights Exclamation Point
What each Kubota SVL75-2 warning light means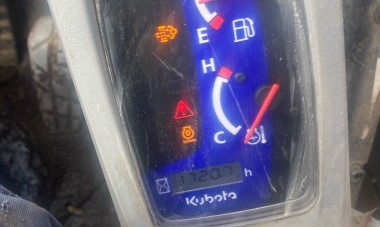 If one of the four Kubota SVL75-2 warning lights on your machine is illuminated, it's essential to know what that particular light means. Here is a quick guide to each morning and what action needs to be taken:
The red triangle with an exclamation point in the center: This is the general warning light and indicates a potential issue with the machine. If this light is on, check the operator's manual for more information on what could be causing the problem.
The orange oil can: This light comes on with low engine oil. Add oil as soon as possible to avoid any damage to the engine.
The green coolant temperature gauge: This light comes on when the engine coolant level is low. Add coolant as soon as possible to avoid any damage to the engine.
The red battery: This light comes on with low battery voltage. Check the batteries and charging system as soon as possible.
Read also: Kubota Excavator Warning Lights
How to Respond Kubota SVL75-2 warning lights?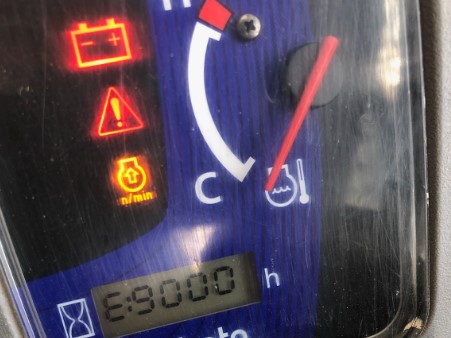 If one of the warning lights on your Kubota SVL75-2 comes on, you should take immediate action to address the issue. Depending on the severity of the warning, you may need to stop the machine and investigate the problem or continue operating cautiously.
If a red light comes on, it indicates a potentially serious problem that could damage the machine or injure you if ignored. Stop the engine immediately and investigate the cause of the warning.
A yellow light indicates a less severe issue that could still lead to problems if ignored. Slow down and proceed cautiously until you can investigate and resolve the issue.
A green light is simply an informational message letting you know that something on the machine is activated or turned on. There is no need to act in response to a green light.
 See also: Kubota Mx5400 Warning Lights
What Kind Of Tractor is Kubota SVL75-2?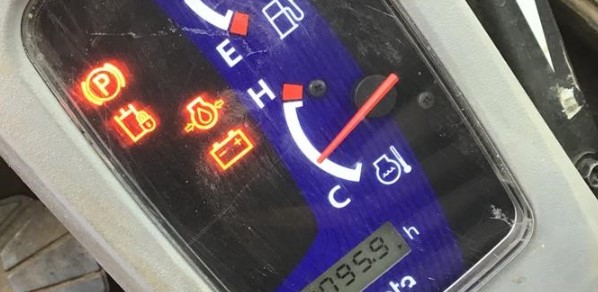 When choosing a Kubota SVL75-2, knowing what kind of tractor is best suited for your needs is essential. There are many different types of Kubota tractors on the market, each with its unique set of features and benefits. In this article, we will closely examine the Kubota SVL75-2 and its many features.
The Kubota SVL75-2 is a compact track loader that is designed for use in a variety of applications. It is powered by a 74 hp (55 kW) Perkins 1104C-44T turbo diesel engine and has an operating weight of 8,914 lb (4,064 kg). The SVL75-2 features an enclosed cab with heat and air conditioning and a radio and CD player. It also has a quick attach bucket system that allows for easy attachment of various implements.
The Kubota SVL75-2 is ideal for construction, landscaping, or agricultural applications. It can clear land, dig trenches, load trucks, move debris, or perform other tasks. With its powerful engine and versatile design, the Kubota SVL75-2 is an excellent choice for those who need a reliable and productive tractor.
Is Case better than Kubota?

There are many benefits to owning a Case skid steer loader. They are built tough and can handle even the most challenging jobs. Kubota skid steer loaders are also very popular, but there are some advantages that Case has over Kubota.
First, Case skid steer loaders have better fuel efficiency. This is because they have been designed with a more efficient engine. Kubota skid steer loaders may have a slightly higher horsepower rating but use more fuel overall.
Second, Case skid steer loaders have better operator visibility. The cab design of Case skid steer loaders allows for greater visibility while working. This is important for safety and productivity.
Third, Case skid steers loaders come with a more extended warranty. This means you can have peace of mind knowing that your investment is protected in case of any problems.
In conclusion, there are many reasons why Case is the better choice when it comes to skid steer loaders. The case is the way to go if you are looking for a machine that is built tough, fuel-efficient, and has a great warranty.
In conclusion, there are a variety of warning lights on the Kubota SVL75-2 that indicate what may be wrong with the machine. Please pay attention to these lights so that you can take necessary action when they appear. If you have further questions regarding your Kubota SVL75-2 or its warning lights, consult a professional for more information and assistance.
🎯Suggested article: Kubota Skid Steer Warning Lights
FAQs About Kubota SVL75 2 Warning Lights
How much does a Kubota SVL75 cost?
The Kubota SVL75-2 w/ Cab Rubber Track Aux. Standard Hydraulics is a 2022 model with an estimated cost of $70,750. It comes complete with a cab and standard hydraulics, making it the perfect choice for purchasing a reliable and efficient machine.
How much can a Kubota SVL75-2 lift?
The Kubota SVL75-2 is a powerful machine, capable of lifting up to 2980 kg with its tipping load and 2814 kg with its breakout force – bucket. It also boasts an impressive lifting capacity of 2214 kg, making it an ideal choice for heavy-duty applications. With reliable performance and maximum power, the SVL75-2 will surely exceed expectations in any task.
Which is better, Kubota or Bobcat?
Kubota offers a generous 9,535 lbs of bucket digging force, but the arm digging force is limited to 4,112. Compared to its competition, Bobcat's lift capacity surpasses Kubota's by 671 lbs—4,921 vs. 4,250—granting it an advantage in tasks requiring greater lifting power, such as tree stumps excavation and similar demanding operations.
What is the difference between SVL 75 2 and SVL 75 3?
The SVL75-3 provides improved performance over the Dash-2 model, boasting a 74.3 hp rating and an 8% increase in rated operating capacity at 35%, tipping to 2,490 pounds and 3,557 pounds at 50%.